Testimonials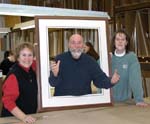 Above left to right: Founders Norah Lynne Brown CPF and Alan Brown CPF
and Peggy Snyder CPF, director of our framing and shipping departments
Messages from Gallery One Collectors
We finally got down to our lake condo and got the painting hung. Absolutely beautiful. Fits the room and other paintings so well. Thank you, thank you. Beautiful job of framing. By the way you had it packed so well I don't think a tank running over it could've hurt it. You clearly take pride in your work and know what you are doing. Thanks again. M.L., Atlanta IL
Peggy, My Bateman giclee arrived today, in perfect condition and I just love it! It is everything I hoped for. Thanks once again for the fantastic customer service. -M.E.H., WI
Peggy — All of our new art work arrived, was unpacked and most are now hanging in places to enhance the look of our new home. They look great! I might add that the framing is spectacular for each piece. The packaging was surpurb—to the point that if there was an Olympic Event for packing and shipping framed art work they would get the Gold Metal for sure. -R.E.
Peggy, I just opened the Bateman print and I am thrilled! The packaging was once again perfect, and the custom framing selection was everything I had hoped for. Working with your gallery again was a wonderful experience. -M.H., WI
Hi Alan, The giclee arrived safely today and it's just beautiful. Peggy did such a fantastic job I hope you were able to see it before it was sent. Thank you so much for covering the shipping costs. The care in wrapping is incredible! I also ordered an AP of Terpning's Cheyenne Red Shield that Peggy will frame when it arrives. I'm excited to see her framing magic on that piece. Again, thanks to you and your staff for another wonderful purchase. - P.O.
Peggy, Many thanks for your special note about my recent Renoir framing project at Gallery One. I sincerely appreciated your professional, cheerful help and suggestions. When I want a beautiful framing job done, I come to you - and am always happy to recommend your gallery to others. - D.W., Mentor, OH
Hi Alan, My wife recently purchased a numbered print from you guys for my 40th birthday. It was the Paul Calle Frontier Blacksmith. Anyway, my wife mentioned that you called her recently, following up on the purchase, making sure we were happy with it. I definitely am, and really appreciate the follow up. That's just great customer service, and worthy of mention. I'm not a huge collector, but will definitely keep you guys at the top of the list next time we're on the hunt for a new piece of art. J.S.
Peggy, We received the shipment! We unpacked it (wow, what a great job - no chance of damage) and my husband loves it! Thanks a million for all your help. I will be in touch when I am ready for my next Bateman. - M.H., WI
I want to let you know that "The Battle of Britain" and "This is No Drill" just arrived. I carefully unwrapped the layers of protection and viewed the prints. Both were in excellent condition. And even better, both exceeded my expectations in that the artwork details and colors were much better than the computer pictures. The icing on the cake is both prints were artist proofs. I am late to collecting aircraft prints and I'm especially glad to obtain prints in short supply. These two prints mean a lot to me. I know you and other people at Gallery One put in a lot of effort on this sale to correct a publisher's error. Through it all, I felt Gallery One was working in my best interest to make the best out of a bad situation. I feel you exceeded my expectations. Thank you. -M.M., AZ
Thanks, Jen-- I feel lucky to get it. And thanks to Alan for making that happen. He really went 'above and beyond', and was a pleasure to deal with on the phone. I'll certainly be back to Gallery One when I want something else. Great customer service! Thanks, again. -- J.A., CO
Hi Peggy, Just wanted to let you know that the Marris fox arrived safe and sound a few minutes ago. I think the piece is stunning! The frame compliments the piece perfectly. It allows the colors to pop out. I must say, your packing skills are exceptional. The carriers would have had to make a special effort to damage that shipment.
Once again, thanks for everything. We are very happy with all the pieces we purchased from you, and I've developed a new appreciation for the older pieces that you re-framed. I'm amazed at the improvement a new frame made for the old stuff that I considered getting rid of -- I'm so happy I didn't dispose of those pieces. I'm quite fond of all of them and can't say which one is my favorite. I still have a few spots that need something small, so I'm sure you'll be hearing from me again. Thanks! K.M., OH
Re: Smith, Marris shipping: great & special service by the best===thanks so, so much====hope to do more business with you all==have a great week===John
Jen: again you all are the best - talk about first class service - you made me feel so special - thanks, thanks, thanks - have a fun & happy day & weekend! J.K., CO
Jen, I appreciate your keeping me informed of the delivery process. I received the print Friday in perfect order. This is the third print I have from Maynard Reece. The other two are "Dark Sky Mallards" and "Autumn Trio, Ring Necked Pheasants." I greatly admire Mr. Reece's artistic work and consider him the standard by which all others are evaluated. Earlier, we had Mr. Reece's "Covey Rise, Bobwhites" and, because of it's size, was displayed over the fireplace. "Dark Sky, Bobwhites" was the specific print I was seeking but was not confident I could find it. It was wonderful when I saw it listed on your website. Thank you again for the professional service and genuine concern throughout the purchase/delivery process. I will certainly seek out Gallery One when looking for other works by Mr. Reece and others. With kindest regards, Ted
Thanks. Can I just say I really appreciate how communicative you are with my order. I don't usually expect that when I order something online! J.B., UT
Thank you so much for obtaining this print for me. It arrived today - very carefully packed and in perfect condition. Again, thanks so much. G.I., VA
Wow! You know how to pack. What I didn't expect is that my wife loves it. She named (the item was Don Crowley's "Trapper") him Jerimiah Townsend. What else can I say but thank you to all who were involved. D.S., CO
Hi Peggy: Just wanted to let you know that the Weiss puppy canvas arrived safely. I am extremely pleased with the piece. I think the frame with the fillet looks great -- it compliments the puppies nicely. Thanks so much for your help. This was the first time I've ordered custom framing over the internet, and it was much easier than I ever anticipated thanks to you and Jen. I will not hesitate to use Gallery One again. Also, I read several posts on your website regarding how carefully you pack your art for shipping. I must say, you are VERY meticulous about packaging. I appreciate the attention to detail both in the framing and the shipping. Again, thanks for everything. I'll be placing another order very soon! K.M., KY
I received my print and it is great. I want to thank you for a very pleasant experience. You do things right. I appreciated the fast, personal service .I will spare you the horror story of waiting months for a print and then going to extremes to get my money back. I will do business with you again. Thanks. J.G., AL
Hello, Alan: Thank you! We just received both pieces. They are in great (perfect) shape. Your service is top of the line. Hope to do more business in the future. You were true to your word (unique I think in the American business world). R.N., CT
Dear Jen: I want to thank you so much for the gorgeous print I received a week or so ago. The Victorian Christmas Carol is just unbelievable. I have never owned any of Mr. Kinkade'™s work until now and I just can't believe how wonderful it is. I want to personally thank you for all the hard work you did to get the print for me and to do so in such a timely manner. I realize this must be the hardest work you are doing as I understand from all of the emails I have received that Mr. Kinkade was not just another artist to you. He was truly your friend and mentor. Not only are you charged with filling orders, but you do so as you grieve the loss of one of the greatest artists of all time who was also your friend. Please pass on my condolences to Mr. Kinkade'™s family and let them know that his memory will live on in the work that he did and the legacy that he left behind. He brightened the world in ways only he could do. I feel like he really fulfilled God'™s purpose for his life here on earth through his magnificent ability to paint. T.L., VA
We recently made a major Kinkade purchase from Gallery One. We were absolutely thrilled with Jen - her assistance and her expertise! She represented Gallery One very well! From the beginning to the end... this was a great experience for us. Please pass our "sincerest compliments to Jen on a job well done!" J.K., OH
Jen: The plate and certificate arrived today! My wife just emailed me. Thanks so much for your terrific follow-up. You have a customer for life.....we're running out of walls but we'll figure out how to build some more. - P.R., PA
Jen and staff: We received the Atkinson and the Kinkade. Both were in perfect condition when they arrived. The packaging was excellent. The Atkinson exceeded our expectations. We have numerous Atkinson prints, and I've always wanted to own an Atkinson original. Your auction provided a means. I stumbled into your web page looking for a Phillips print which we purchased and are very pleased with. After this last purchase we will always look Gallery One first. Also, thanks for the gift. We plan on framing the Atkinson "Breaking Powder" poster, which will go great in our basement, recreation area. Thanks again. B.S., CO
Alan and Peggy: Thank you for the safe delivery of my Lyman print. It is the "Best packaging I have ever seen." Thank you. J.B., WA
Hi Alan: I just want to let you know that the Bev Doolittle framed canvas arrived in perfect condition! What an awesome job you and your staff did in packaging it! As I explained to you on the phone, it was to be a birthday gift for my husband, and the picture, the frame...all will coordinate with the rest of the furnishings! Thank you so much for the outstanding customer service and quality of product. Both seem to be rare these days. You can rest assured that I will be a loyal future customer and will pass your name on to others when I find them in the market for great art. Sincerely. M.P., WA
Thank you so much for making this such a special Christmas. You were able to obtain two very special prints from Alan Bean that I thought it were impossible to find. What made it even better is that Alan (Bean) personalized the information card with each print. I will be coming back to your gallery when I want to get any print. Again thank you for doing what you did. R.M., TX
I want to thank Alan & his perfect staff for my Nancy Glazier print == it arrived well packed & what a beauty = this is why I keep coming back to you all == thanks,thanks again Alan & staff,,,,,,you all indeed are the best. J. K. Jr. == Merry Christmas & a very Happy New Year
Peggy: I'm home from my trip now and I picked up the Christensen lawyer print from my neighbors. The packaging was excellent, but most importantly the frame is - just as you said - perfect. What a beautiful, interesting match! I adore the print now, while before I was lukewarm about it - mostly, I realize, because of the frame it was in. Thanks so much for transforming it for me. I'm considering another Christensen print sometime, and if I get one, I'll turn to your gallery for it. Thanks so much to you and Alan. J.S., PA
Gallery One: I have received the Brenders prints. They arrived in perfect shape. Both are so stunning, more beautiful than I could imagine. Thank you so much for your help and assistance. When next I am in Mentor, I shall stop in your gallery. B. P., OH.
Alan: Thank you very much for your great service as I received the print today. Your personal touch from phone calls to prompt attention to detail exceeded all expectations. I will certainly buy from you again. Regards, B .B., Newmarket ON
Hi: I received my picture today - arrived in perfect shape and the painting is absolutely beautiful. Thank you for the gift that was enclosed with my purchase. I will not hesitate to order from you again. Thank you very much. Sincerely, G. S., Ontario, CA
Peggy: I received the painting (and frame) on Friday and wanted to thank you. The picture is beautiful and will fit perfectly in the spot I planned on hanging it. There are a few things I miss about Ohio. One of them is not being able to visit and purchase from you so easily. But you made this (long-distance) purchase so easy and your were so very helpful. Thank you so much for this wonderful purchasing experience. M. P., VA.
Hi Jen: Harper prints received in UK well packed and in good condition. Everyone is happy, thanks very much! Your helpful manner and attention to detail was much appreciated. Regards, P. M., U.K.
Alan: Thank you so much for your easy and prompt service. Just a FYI, I contacted three other galleries about this print and none have responded to my inquiries. Gallery One was prompt and helpful and made this transaction so easy...proving that customer service is NOT dead. Again, thank you for everything, and I will contact Gallery One first for future art purchases. Regards, S. M., NC

I want to thank you for shipping me "The Burden of the Responsible Man". It arrived in perfect condition. On opening the box, I was pleasantly surprised to find the signed poster of "Conversation around Fish". Your gallery is most thoughtful and I will definitely be doing more business with you in the future. Once again, thank you. Happy Holidays and may all of you have a happy, healthy New Year. K. & G. S., CA

Peggy: Sorry this email has been so long in coming, but A.... and I have been entranced by the new Brenders in our collection. The piece is simply magnificent! The size, composition, and framing all combine for a dramatic effect that is perfect for a wall that has been giving us a challenge to find"that perfect piece". The wall looks like it was made to display the art. Thank you and everyone at Gallery One for a job well done! The shipping was flawless, the framing was flawless, and your customer service was second to none. It's nice to know we've found a home for future purchases. Thanks again for going above and beyond! S&A, WI

"To Peggy (and all involved): I apologize for the delay in sending my thanks for a terrific job on the framing and shipping for our Christensen "Hold to the Rod" print. First of all, working with everyone at Gallery One has been a great pleasure. Even though you all are hundreds of miles away, we feel like we're dealing with neighbors. Your selection of the framing for this print was dead-on. It appears as if Mr. Christensen had this exact frame in mind while creating this piece. As an engineer, I have dealt with the Department of Defense, aerospace contractors, and packaging engineers and have never seen a better job of packing and protection than what was done for our framed canvas. If NASA would consult with you, we would have more satellites in orbit. I remain in awe of the artistry of that packing and felt guilty taking it to the recycling bin. Thank you all once again - we look forward to a long relationship and our next excuse for a trip to Mentor, OH. L. AND B. R., SC
Jen: This is to let you know the print arrived this morning, safe and sound (and extremely well protected!). Please place on record that I have been most impressed with all aspects of your organisation. You seem to be extremely customer-focused and this was much appreciated in view of the heaven knows how many miles between us! Please also thank Peggy for her involvement in a most pleasurable transaction. Wishing you well for 2007 - and beyond. D. J., UNITED KINGDOM
To my new friends at Gallery One: I want to thank you a thousand times over for my first experience with your wonderful art gallery. I would especially like to single out Jen for helping me with my purchase of "Beyond Negotiations" by Bev Doolittle. What a splendid experience dealing with Jen as I tried to come to the decision to purchase this extraordinary work of art, and I am extremely happy and satisfied that I did! It fulfills a long period of collecting art and always wanting "a Doolittle". What a piece of wonderment to have for my first work of art by this amazing artist. And I have Jen to thank for making this all happen. I would also like to thank Peggy for the beautiful framing and expert shipping that brought this amazing piece of art to my home. The framing brings out the beauty in this picture and the way it was packaged and shipped was "Beyond Expectations". Wonderful, wonderful!!!! And lastly, I would like to thank Norah Lynne Brown and Alan Brown for their first-rate and first-class gallery and for having such an expert, professional and very friendly staff to compliment the beautiful works of art that's offered at Gallery One. My experience has been "Beyond Imagination" and I truly thank you for all your kindness. S. B., WI

Dear Jen: Just a quick e-mail to let you know that we have received our print. I would like to congratulate you and your team for the professional service that you displayed from the very start when I first enquired about the print, to when I ordered it, to now receiving the print. It was a job well done and a credit to your business. My wife and I will be back soon to order either another print or an original to add to our growing collection. Once again thank you for your service. Regards, I. K., SOUTH AUSTRALIA

Dannette and Peggy: I just wanted to drop you both a note to thank you for the wonderful job you did on White Encounter. I cannot tell you how surprised and thrilled J was with the picture. It came out truly beautiful and has a prized place in our family room where we can enjoy it everyday. The delivery went fine, arrived on time and the picture was perfect. Your attention to detail and superior customer service is why we will only buy from Gallery One." N. & J., ARIZONA

"Peggy: Thanks to you and Alan for following this up in such a nice and professional way! Best regards." K.S. NORWAY

"I received this very cool item several days ago. It took this long to open all the packaging! It could have came from the moon undamaged! Thanks T.K.
"Alan: The prints we purchased from you are magnificent­ and were packed superbly so no damage in transit. Thank you. There was also a surprise in the box. Thank you very much indeed! There was no need, but your generosity is much appreciated. Please also thank Jen. We will certainly keep your gallery in mind for future purchases. Kind regards. A.& H., SCOTLAND
Dear Gallery One, Finally, I have found a gallery I can really trust....one with a "real location" and a fabulous staff. I will NEVER buy from anyone else. Please thank your order department....and your packing and shipping staff. They are all real professionals. I will plan my summer vacation so I can visit you. Thank you! Thank you! K. L.
"Many thanks for your help in securing the prints that we sent as gifts to our kids. They just love all three. They each commented about how much better they look in 'real life.' The net does not yet have the ability to show the shadings etc. that are so much a part of art. Thanks too, for the extra posters. My daughter-in-law knew just where to put theirs and I do, too! I remember that photo print of the chipmunk from our days living in Cleveland. It's more appreciated here because there are no chipmunks in Florida. I'll enjoy that one and think of you! E.Z., FLORIDA
"At long last I have just brought my picture home and unwrapped it. It is beautiful - I am truly delighted with it... You had packaged it so extremely well that absolutely nothing happed to it in transit. Even the baggage handlers at Heathrow couldn't damage it - and that is saying something!! Many thanks for your excellent service. I shall certainly be purchasing more from Gallery One. In fact next year when we come to the USA again we are looking to try and make a visit to your gallery - as it looks wonderful on your website. S. P., UNITED KINGDOM
"I really love the job your folks did with the framing. They certainly found perfect color and texture matches for each of the paintings and all look fantastic on my beige/gold colored walls. It was a pleasure doing business with you and I hope to do so again." M. M., VA
To the folks at Gallery One, especially the person who packed and shipped my painting: I'd like to compliment you folks for a First Class operation. I've never seen a better job of packaging a painting for shipping. It was definitely First Class which to me reflects the character of the gallery. Thank you. E. C., IL
E-mail Gallery One - art@galleryone.com
Copyright © 2000 Gallery One - 7003 Center Street - Mentor, Ohio - 44060
Phone: 1.800.621.1141 or 440.255.1200 Fax: 1.440.255.9283