Florian died January 11, 2011 at age 89. Beloved and respected by artists and collectors, Florian leaves a lasting art legacy.
Artist Florian K. Lawton depicts the unembellished simplicity of nature and rural life through his accomplished watercolor paintings. Educated at the Cleveland Institute of Art, he distinguished himself academically. He taught watercolor painting at the Cleveland Institute of Art. His works are included in many prestigious private and corporate collections and in museums and galleries. He is affiliated with the American Watercolor Society, the National Watercolor Society, Whiskey Painters of America, the National Arts Club, Audubon Artists and the Salgamundi Club.

Florian Lawton - Rock Star
---
Form:
original watercolor hand signed by the artist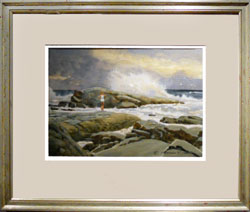 Product Code: LAWRO1
Gallery Price:

$975.00
If you are having difficulty using our "email for price" or "bid" forms, please call us or switch to another internet browser (Chrome, Edge, Firefox, etc.)
Share this product with your friends.
---
Coupons and Shipping Specials
---