I was attracted to this bird because it is so unique. It is actually a shorebird that lives in the forest and is usually seen at dusk. I was thinking of its amazing camouflage ability when I painted the bird and its base. - PB
Paul Brunelle, born in 1954 in Canada, has been fascinated with art since he completed his first oil painting at twelve. He began to sculpt in 1985. Paul describes clay as having essential qualities needed to create his art. In its pliable state, clay can be quickly sketched to capture attitudes and expressions, as well as designs and compositions. The clay can then be allowed to dry to the point when you can carve the surface detail of feathers and a variety of textures. The sculpture is then dried and kiln fired to the permanence of stone. His sculptures are made of the kind of clay that potters use. It is responsive and direct to the touch and is capable of capturing a fresh expression of the subject and of recording the finest detail when required. When it is fired it hardens to the permanent quality that can be observed in the many existing sculptures of antiquity. After firing, the sculptures are painted with oils and/or acrylics.

Paul Brunelle - American Woodcock
---
Form:
original fired clay sculpture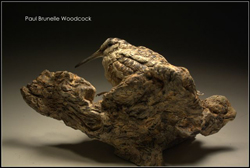 Product Code: BRUWO1
Buy It Now:

$2,200.00
If you are having difficulty using our "email for price" forms, please call us or switch to another internet browser (Chrome, Edge, Firefox, etc.)
Share this product with your friends.
---
Coupons and Shipping Specials
---