Afternoon Delight II is a scene of the Neshaminy Creek located in Tyler State Park outside Newtown PA. The subject was inspired by a desire to focus on single object, mainly a tree trunk, in a landscape environment. - RS
Robert Seufert's paintings are realistic with a delicate use of the pallet knife to achieve unusual effects. Details are rendered by a stippling process, similar to pointillism used by Georges Seurat. Principally a landscape painter, much of Robert's subject matter is derived from Bucks County PA. Painting professionally since 1968, he has won nearly 100 awards including many best of shows and first prizes. His paintings are in nearly 2000 private and corporate collections worldwide including Equitable Life, McGraw-Hill and Dewey Ballantine. His depictions of national sites have six times won him a place in Arts for the Parks.

Robert J. Seufert - Afternoon Delight II
---
Form:
original oil hand signed by the artist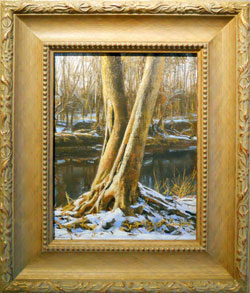 Product Code: SEUAF1
Gallery Price:

$1,000.00
If you are having difficulty using our "email for price" or "bid" forms, please call us or switch to another internet browser (Chrome, Edge, Firefox, etc.)
Share this product with your friends.
---
Coupons and Shipping Specials
---