They are elusive, but always a joy to see. They always look as if they are about some mischief. This cockatoo was spotted near the O'Rielly Bird Sanctuary in Eastern Australia.
Harold Roe was born in 1930 and resides in Ohio. He earned a bachelor of architecture degree from Ohio State University. In addition to being the four-time winner of the Ohio Wetlands Habitat Duck Stamp Competition, Harold was named International Artist of the Year by Ducks Unlimited. For his art research, he has traveled to Alaska, Africa, New Zealand and Canada. He has exhibited in Leigh Yawkey Woodson Art Museum's Birds in Art.

Harold Roe - Red-Tailed Black Cockatoo
---
Form:
original acrylic hand signed by the artist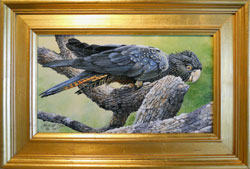 Product Code: ROERE1
Buy It Now:

$1,600.00

$800.00
If you are having difficulty using our "email for price" forms, please call us or switch to another internet browser (Chrome, Edge, Firefox, etc.)
Share this product with your friends.
---
Coupons and Shipping Specials
---