I don't know what the variety of this rose is, but it blooms seemingly all summer long. In the warm weather, I regularly pass the huge rosebush, which has overtaken and overgrown an old fence. The color of the blossoms reminds me of the sweet peas that grew in my grandparents' garden, now since gone.
Sherry Mitchell of British Columbia, Canada, was born in 1953. Her work has been featured in publications including U.S. Art, Art Trends and Art Business News. Her work has been included in numerous exhibitions, including the New York Art Expo, the British Columbia Festival of the Arts and the Aim for Arts International Exhibition. She is a published botanical illustrator and a signature member of the Federation of Canadian Artists.

Sherry Mitchell - Old Roses
---
Form:
original watercolor hand signed by the artist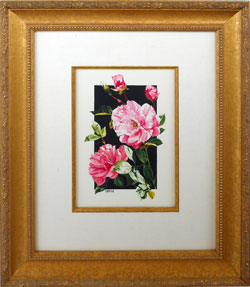 Product Code: MITOL1
Gallery Price:

$650.00
If you are having difficulty using our "email for price" or "bid" forms, please call us or switch to another internet browser (Chrome, Edge, Firefox, etc.)
Share this product with your friends.
---
Coupons and Shipping Specials
---