I often try to control more than one thing at a time....it is called "Motherhood." - EMcP
Emily Christensen McPhie was born in Utah in 1978 into the highly-artistic Christensen family. Growing up, the pursuit of art was second-nature. She went on to win awards for art in high school and beyond, graduating from Brigham Young University with a Bachelor of Fine Arts, with an emphasis in painting. She currently resides in Arizona with her husband Gavin and daughters Cordelia Lavender, Clover Iona and Ezra Petunia. "Motherhood has brought out some pretty strong emotions and ideas," says McPhie. "Translating those thoughts and emotions into images gives me clarity, and I find I want to document them before my perception changes."

Emily McPhie - Heron, The
---
Form:
original oil hand signed by the artist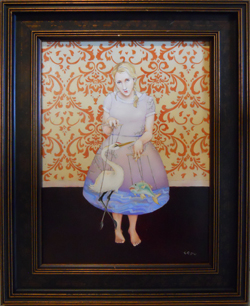 Product Code: MCPHE1
Buy It Now:

$1,400.00
If you are having difficulty using our "email for price" forms, please call us or switch to another internet browser (Chrome, Edge, Firefox, etc.)
Share this product with your friends.
---
Coupons and Shipping Specials
---