For me, paintings such as this are not "still lifes." They are lively images reflecting my love of home and gardening. - MLF
Born to a farming family in the 1960s in France, Marie-Line Fourmont "always" painted. Over the years, she continued to deepen and perfect her technique. As a mother of three and a farmer in dairy production with her husband, painting was once just an occasional pastime. But within the last 15 years, with her children grown, she can paint and garden daily. Her passion for flowers (roses in particular) cannot be separated from her art as one inspires the other, and she can constantly celebrate the beauty of nature.

Marie Line Fourmont - Rondeur de Mars
---
Form:
original oil hand signed by the artist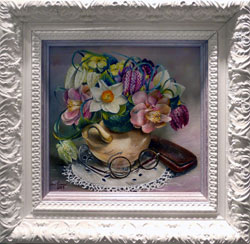 Product Code: FOURO1
Gallery Price:

$1,000.00
If you are having difficulty using our "email for price" or "bid" forms, please call us or switch to another internet browser (Chrome, Edge, Firefox, etc.)
Share this product with your friends.
---
Coupons and Shipping Specials
---