This is a cat of many names: cougar, puma, mountain lion, ghost cat, catamount and others. I've been hiking in the Colorado Rockies for over 35 years, and although I often see their tracks, it's nearly impossible to catch sight of a live cougar. I treasure the few glimpses I've had of this great cat.
James Faulkner won his first national award in 1979. Best known for his ability to paint natural light, he has won Best of Show awards at the National Wildlife Art Show, Oklahoma Wildlife Art Festival, the Western Art Festival and others. He has participated in the Arts for the Parks Museum Tour and his work was featured on a National Park Stamp. His work has been shown at Gallery One's Mastervisions and Masterworks in Miniature. Mastervisions is a museum quality exhibit featuring 50 top North American contemporary artists.

James Faulkner - Tomcat - Cougar
---
Form:
original oil hand signed by the artist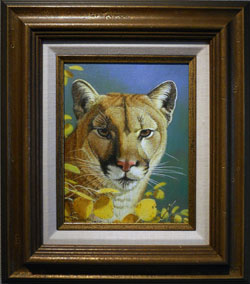 Product Code: FAUTO1
Buy It Now:

$800.00

$500.00
If you are having difficulty using our "email for price" forms, please call us or switch to another internet browser (Chrome, Edge, Firefox, etc.)
Share this product with your friends.
---
Coupons and Shipping Specials
---