This is Andrew and his paint horse, Wyatt spending the day together. This piece was done in loving memory of Wyatt, one of my favorite horses and subjects to paint. Although he is running free beyond the rainbow, his gentle and beautiful spirit will always remain in our hearts and minds. - CD
Carla D'aguanno was born in 1964 and resides in Massachusetts. She earned her BFA from the Otis/Parsons School of Design. Her work has appeared on numerous book covers and in exhibitions and permanent collections nationwide. She was honored by Art Trends with a first place Gallery Choice Award and a People's Choice Award.

Carla D'aguanno - For the Love of Wyatt
---
Form:
original oil hand signed by the artist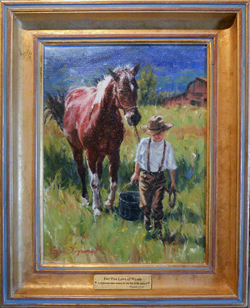 Product Code: DAGFO1
Gallery Price:

$950.00
If you are having difficulty using our "email for price" or "bid" forms, please call us or switch to another internet browser (Chrome, Edge, Firefox, etc.)
Share this product with your friends.
---
Coupons and Shipping Specials
---