On a chilly evening, a red fox beds down, using his own soft, bushy tail as a scarf to keep his nose warm. The hint of russet in the dead leaves picks up the red of the fox's coat. I wanted to give the image a cozy feel - feeling the painting's edge close in around the animal to emphasize his snuggling in. - AC
Canadian Audrey Casey began painting full time in 1980, after a 14-year career as a teacher. She was selected as one of a group of 19 wildlife artists from across Canada to participate in an exhibit at the Royal Ontario Museum celebrating Canadian wildlife. This led to her artwork being included in The Art of Survival, a book commemorating the show. Her work has appeared on the cover of Montana, in Artist Impressions and in a film titled Brush with the Polar Bear.

Audrey Casey - Snuggling In
---
Form:
original acrylic hand signed by the artist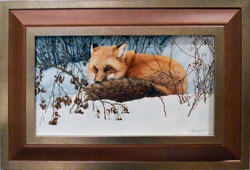 Product Code: CASSN4
Buy It Now:

$950.00

$500.00
If you are having difficulty using our "email for price" forms, please call us or switch to another internet browser (Chrome, Edge, Firefox, etc.)
Share this product with your friends.
---
Coupons and Shipping Specials
---