Two species of white-faced owl range across most of the African continent. They are closely related to the American screech owls, and in many ways are more like them than other Old-World owls. They nest in tree cavities in sparse forests and wooded savannahs, and prey mostly on large arthropods and small mammals. - CBvK
Carel Brest van Kempen of Utah was born in 1958. He has won many awards of excellence and best of shows and illustrated many books including Rigor Vitae: Life Unyielding, Biology of Gila Monsters, Dinosaurs of Utah, Pythons of Australia and Savannah and Grassland Monitors. His work is in collections of the Springville Art Museum, Leigh Yawkey, World Center for Birds of Prey, Sonora Desert Museum, Natural World Museum and Bennington Center.

Carel Brest van Kempen - Northern White-faced Owl
---
Form:
original acrylic hand signed by the artist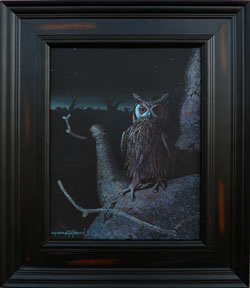 Product Code: BRENO4
Buy It Now:

$1,550.00

$1,000.00
If you are having difficulty using our "email for price" forms, please call us or switch to another internet browser (Chrome, Edge, Firefox, etc.)
Share this product with your friends.
---
Coupons and Shipping Specials
---