One of the smallest birds of prey, the sparrow-sized Black-thighed Falconet (Microhierax fringillarius) is a common forest bird from southern Myanmar throughout the Malay Peninsula, and on Singapore, Sumatra, Borneo, northern Sulawesi, Java and Bali. It feeds mainly on large flying insects like dragonflies and cicadas, flying out from a perch, snatching them out of the air with their feet, then returning to the perch to feed. This diet is supplemented by the occasional small reptile, rodent or bird, and Black-thighed Falconets have been recorded taking wading birds as much as twice their own weight. The female lays three or four white eggs in a tree cavity, usually an abandoned barbet nest. - CBvK
Carel Brest van Kempen of Utah was born in 1958. He has won many awards of excellence and best of shows and illustrated many books including Rigor Vitae: Life Unyielding, Biology of Gila Monsters, Dinosaurs of Utah, Pythons of Australia and Savannah and Grassland Monitors. His work is in collections of the Springville Art Museum, Leigh Yawkey, World Center for Birds of Prey, Sonora Desert Museum, Natural World Museum and Bennington Center.

Carel Brest van Kempen - Black Thighed Falconet
---
Form:
original acrylic hand signed by the artist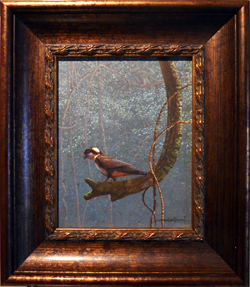 Product Code: BREBL6
Buy It Now:

$2,000.00
If you are having difficulty using our "email for price" forms, please call us or switch to another internet browser (Chrome, Edge, Firefox, etc.)
Share this product with your friends.
---
Coupons and Shipping Specials
---