A male goldfinch finds a perch on a clump of blooming Oregon grape, almost as if he chose the flowers to match his bright breeding plumage. - SB
Susan Bourdet grew up in western Montana. She majored in art and biology, her two great loves, while at Montana State University. After graduation she worked as an artist for a ceramics company and later as a pharmacy technician. For years, she taught watercolor at a local community college in Oregon. Susan's career as a professional artist didn't really begin until 1980, and she now has over sixty limited editions in print along with yearly songbird calendars. She is the author of Painting the Allure of Nature and is working on a second book. Her paintings have been featured in shows and exhibitions including the Leigh Yawkey Woodson Art Museum's Birds in Art and the Society of Animal Artists.

Susan Bourdet - Gift of Gold
---
Form:
original watercolor hand signed by the artist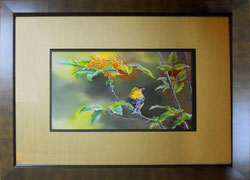 Product Code: BOUGI1
Buy It Now:

$1,450.00
If you are having difficulty using our "email for price" forms, please call us or switch to another internet browser (Chrome, Edge, Firefox, etc.)
Share this product with your friends.
---
Coupons and Shipping Specials
---