I saw an unbelievable number of tropical birds when I visited Guatemala and the ruins of Tikal. I was most impressed by the extraordinary colors of the scarlet macaws and chose to portray them against the monotone patterns of the ruins. - RF
Rod Frederick was born in 1956 and?lives in Oregon.?He received bachelor of science degrees in art and biology from Willamette University. He was the first-ever?Pacific Rim Artist of the Year and has participated in? both Leigh Yawkey Woodson's Birds in Art exhibition and Gallery One's MasterVisions. He has also exhibited at the High Desert Museum. He is published by the Greenwich Workshop.

Rod Frederick - Jewels of the Maya
---
Form:
original mixed media hand signed by the artist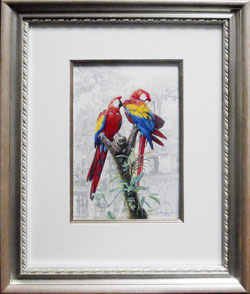 Product Code: FREJE1
Buy It Now:

$3,000.00

$1,500.00
If you are having difficulty using our "email for price" forms, please call us or switch to another internet browser (Chrome, Edge, Firefox, etc.)
Share this product with your friends.
---
Coupons and Shipping Specials
---